Georgia Tech, the School of History and Sociology, and the Ivan Allen Georgia Tech have recently launched a new program in Sports, Society, and Technology (SST). This initiative helps faculty and students to study sport in the contexts of historical and contemporary culture. Interdisciplinary studies and innovative teaching in SST will help students become leaders in the sport and health industries, higher education, and in our local and global communities. The program also houses the Sports, Society, and Technology Research Center.   
---
SST Summer 2018 Courses
       HTS 3089, Science, Technology, and Sports; Professor Matt Ventresca - Early Summer [ONLINE ONLY]
SST Fall 2018 Courses
HTS 2015, History of Sports in America, Professor Johnny Smith - TTH at 1:30 pm
HTS 3075, Foundations of Sports Studies; Professor Matt Ventresca - TTH at 12:00 pm
HTS 3022, Sociology of Sports; Professor Mary McDonald - TTH 9:30 am
APPH 2500, Introduction to Sport Science, Professor Melinda Millard-Stafford - TTH 12:00 pm
PupP 4803, Sports Law and Public Policy; Professor Larry Keller - TTH 9:30am
MSE 4803, Material Science and Engineering of Sports; Professor Jud Ready - MWF 12:20pm
ARCH 4803, Stadia; Professor Benjamin Flowers - TTH 3:00pm
Former Georgia Tech athletic director Homer Rice is also teaching HTS 3813B, Fitness Leadership - W 4:30-7:15
---
SST in the News
Dr. Mary McDonald Co-Edits Special Journal Issue, "Doing Sport History in the Digital Present"
Dr. McDonald recently co-edited a special issue of the Journal of Sport History, "Doing Sport History in the Digital Present" (Vol. 44, No. 2, Summer 2017). This is among the first collections to address theories, issues, and methods related to sport history in relationship to digital scholarship. The 14 articles in the special issue were initially presented and reviewed at a workshop hosted by the Sports, Society, and Technology Research Center at the Georgia Institute of Technology in May 2016. With Dr. Jennifer Sterling (University of Iowa) and Dr. Murray Phillips (University of Queensland) Dr. McDonald also co-authored the special issue's introduction, an essay that discusses each of the 14 articles' unique contributions while also considering the challenges and possibilities of digital scholarship within sport history. Each article in the special issue can be accessed at: http://www.journalofsporthistory.org/current-issue.html
Dr. Matt Ventresca Publishes in Communication & Sport
Dr. Ventresca, Postdoctoral Fellow in the School of History and Sociology, recently published a peer-reviewed article in the journal Communication & Sport titled, "The curious case of CTE: Mediating materialities of traumatic brain injury." The article critically interrogates media representations of Chronic Traumatic Encephalopathy, a neurobiological condition stemming from histories of repetitive brain trauma and inextricably linked with sport's "concussion crises." Ventresca highlights the discursive clashes between emotionally charged representations of CTE as an urgent public health problem and commentary cautioning audiences about the scientific uncertainty surrounding CTE. He writes that inconsistencies across these media discourses demonstrate how the materialities of CTE exceed the medico-scientific and lay discourses through which the condition is commonly known. Ventresca argues that this uncertainty around the causes and consequences of CTE, however, should not delay - but rather accelarate - decisive action to lessen the risk of brain injuries in sport environments.
Dr. Johnny Smith Publishes "A Season in the Sun: The Rise of Mickey Mantle"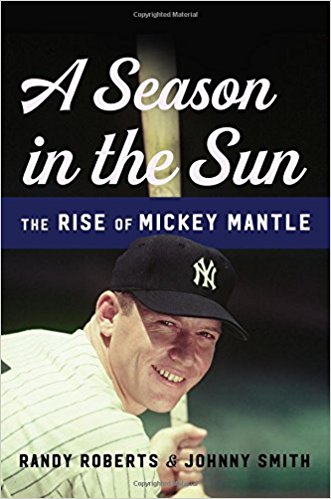 Along with co-author Dr. Randy Roberts (Purdue University), Dr. Smith has published a new book detailing the meteoric rise of baseball legend Mickey Mantle throughout the 1950s. More than an account of Mantle's Hall-of-Fame career, Roberts and Smith's book reveals Mantle to be a complex figure, whose greatness on the diamond was closely entangled with his off-the-field struggles and growing celebrity. The authors deftly situate Mantle's life and persona amid the sociopolitical complexities of 1950s American life, revealing how sportswriters were eager to smooth over Mantle's faults to craft an image of the slugger as a wholesome post-war icon. A Season of the Sun was published with Basic Books and is available at fine retailers everywhere.
Dr. Smith will also be speaking about his new book at a public event on Monday, April 2nd at Jimmy Carter Presidential Library (Atlanta, GA; Museum Theater - 7:00-9:00pm). Dr. Smith will be available to sign copies of A Season in the Sun following this event.
Former Georgia Tech Athletic Director Homer Rice Receives 2016 IAC Dean's Appreciation Award
Legendary college football coach, educator, author, and former Georgia Tech Athletic Director, Dr. Homer C. Rice has received the 2016 Ivan Allen College Dean's Appreciation Award. This award not only recognizes Dr. Rice's national accomplishments but also acknowledges his long-time and continuing contributions to the School of History and Sociology, the Sports, Society, and Technology Program, and Georgia Tech.
This video tribute helps to capture some of his important contributions.
---
Past SST Events
Critically Examining Sports' "Concussion Crises"
On March 9th, the Georgia Institute of Technology's Sports, Society, and Technology program sponsored an interdisciplinary workshop featuring scholars from across North America whose research critically examines the various intersections of sports and traumatic brain injuries. The presentations interrogated sports' "concussion crises" by drawing on socio-cultural perspectives and situating traumatic brain injuries in their broader social, political, and scientific contexts.
For more details, check out this summary featured on the Ivan Allen College Website.
For the workshop program, abstracts, and presenter bios, visit: https://hsoc.gatech.edu/sports/concussion_workshop
---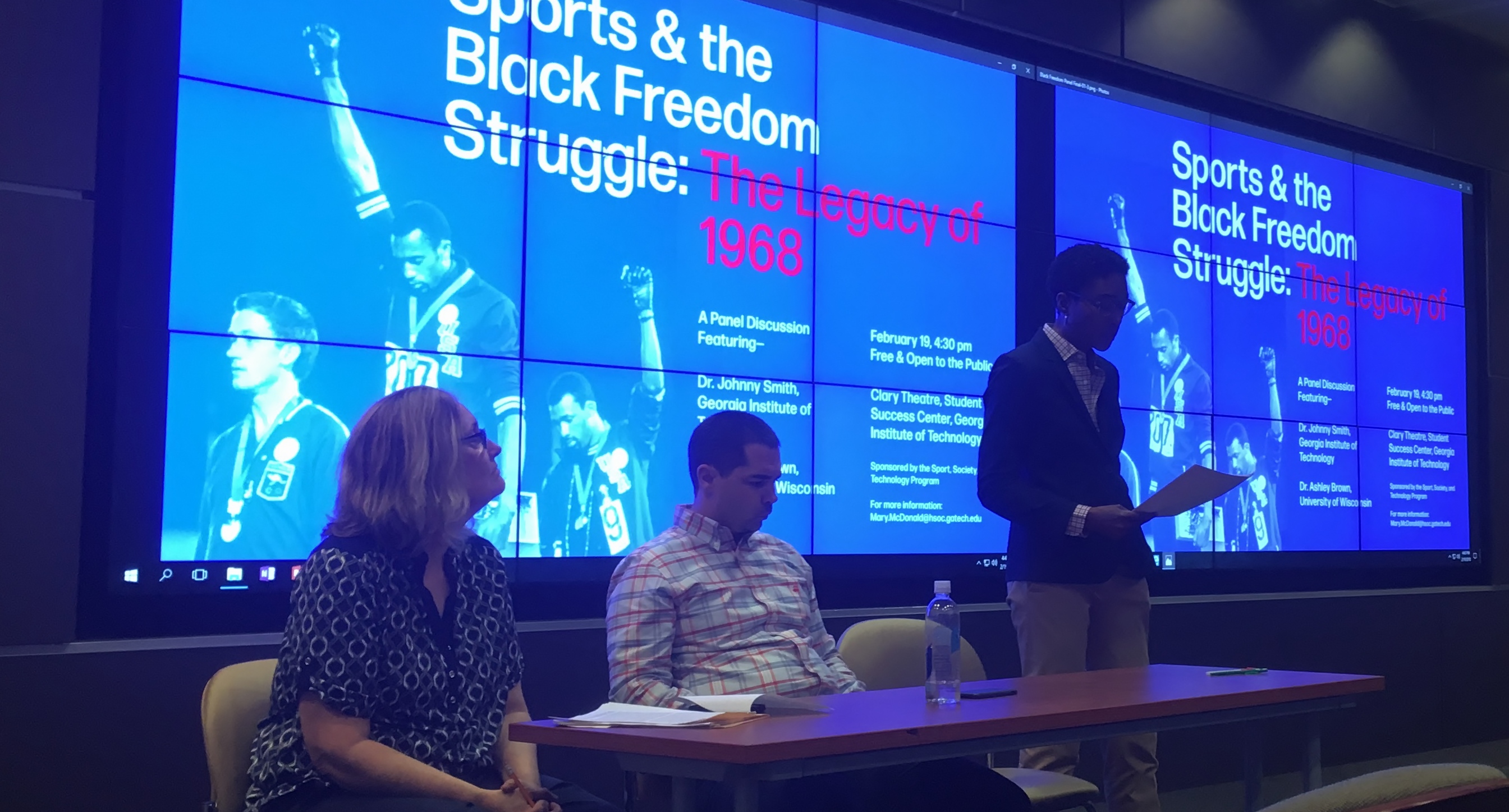 Sports and the Black Freedom Struggle: The Legacy of 1968
On February 20th, Historians Johnny Smith (School of History and Sociology, Georgia Institute of Technology) and Ashley Brown (Department of History, University of Wisconsin, Madison) were part of a fascinating panel discussion about sports and the black freedom struggle. Moderated by Dr. Mary McDonald, the conversation offered opportunities to reflect upon the legacies of Black sporting activism including that of the Olympic Project for Human Rights, and Tommie Smith and John Carlos' famous Black power salute during the playing of the national anthem at the 1968 Olympics in Mexico City, Mexico. This panel and the lively Q&A that followed shed light upon the diverse strategies utilized within the Civil Rights movement, but also provided an historical context to better understand U. S. Black athlete activism in the contemporary moment.
---
Olympic Pride, American Prejudice Screening and Panel

The Sports, Society, and Technology (SST) Program hosted a screening of Olympic Pride, American Prejudice and a post-film panel on October 2, 2017 in the Student Center Theater on the campus of the Georgia Institute of Technology. Co-sponsors of the event included the Ivan Allen College (IAC) of Liberal Arts, the School of History and Sociology (HSOC), and the Black Feminist Think Tank.
Olympic Pride, American Prejudice explores the experiences of 18 African American Olympians who defied Jim Crow and Adolf Hitler to win hearts and medals at the 1936 Olympic Games in Berlin. The documentary is the creation of Atlanta filmmaker Deborah Riley Draper—who also spoke on the post-film panel—and narrated and executive produced by Blair Underwood. John Dewberry, former Georgia Tech quarterback (1983-1985) who currently heads Dewberry Capital, is a patron of the documentary. He introduced Olympic Pride, American Prejudice to an appreciative standing room only audience of Georgia Tech students and Atlanta community members. Also attending the screening were several honored guests and Atlanta-based members of the production staff. These included: Michael A. Draper (Executive Producer); John and Jaime Dewberry (Patrons of Olympic Pride); Lacy Barnes (Line Producer); Cheryl Rogers (Composer) whose son Charlie Rogers is a Georgia Tech student; Tandi Reddick (Associate Producer). IAC Dean Jackie Royster and HSOC Chair Eric Schatzberg also attended the screening, as did Homer and Karen Rice. Homer Rice is a former athletic director (1980-1997) at Georgia Tech, a SST supporter, and IAC Dean's Appreciation Award Recipient in 2016.
Filmmaker Deborah Riley Draper was joined on the post-film panel by Georgia Tech Professors Johnny Smith, the Julius C. "Bud" Shaw Professor of Sports, Society, and Technology (HSOC) and Greg Zinman (School of Literature, Media and Communication). Professor Mary McDonald, the Homer C. Rice Chair of Sports and Society, moderated the panel. CLICK HERE for more details about this event.
Photo credits: L. Barnes (2017).
---
Follow the links below to learn more about:
the SST Research Center;
the SST leadership and participating faculty; and
all the recent news about the activities, events, and people associated with SST.