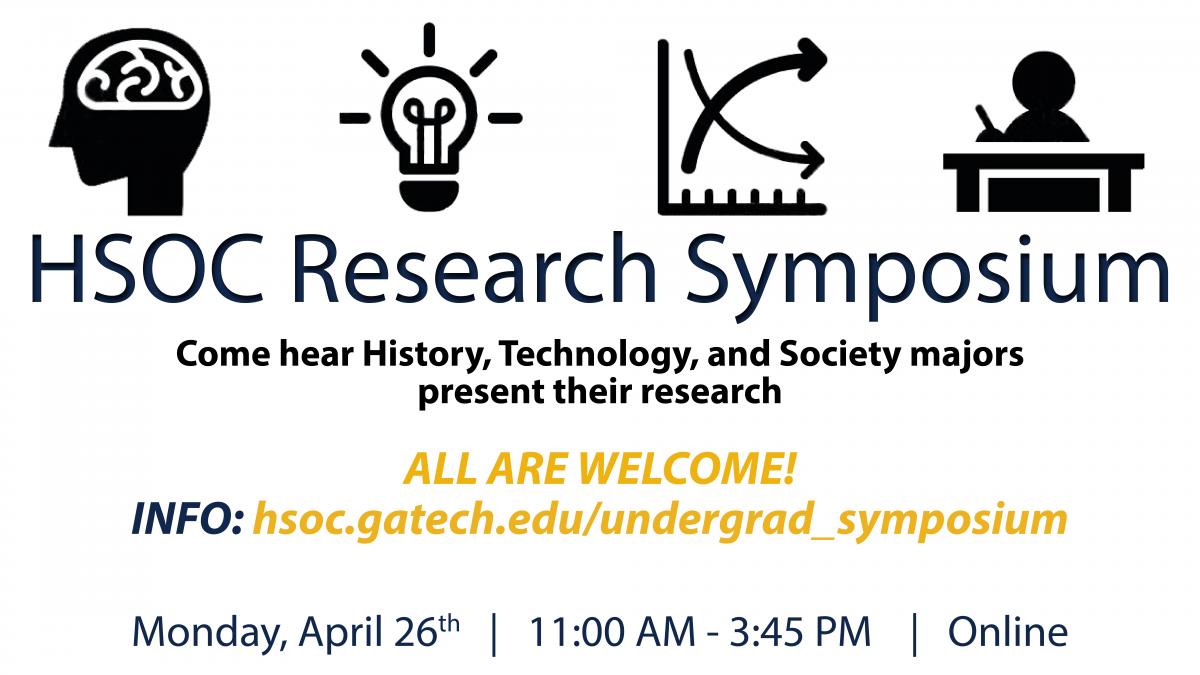 We hope you'll join us for the spring 2021 HSOC Undergraduate Research Symposium on Monday, April 26th from 11:30 AM - 4:00 PM online (breaks from 12:15 - 12:30 PM and 2:15 - 2:45 PM).  Please join us online for this event.  The link to the BlueJeans event is https://bluejeans.com/622475036.
SCHEDULE OF PRESENTATIONS TBA

11:30 AM- Charlotte Canavor, "Birthing while Black: Delivering through Discrimination"

11:45 AM- Haley Theis, "The Well-Being of Children: A Rural Community's Perspective"

12:00 PM- Yihua Xu and Saatvik Korisepati, "Living the Dream? Racial Disparities in the Returns on Education in Metropolitan Atlanta"
  12:15 - 12:30 PM – Break

12:30 PM- Yihua Xu, "SNAP Receipt among Immigrants and Native-borns in Metropolitan Atlanta"

12:45 PM- Mariel Barnett, "Child Poverty and Mental Health: Pathways Toward Future Psychological and Policymaking Decisions"

1:00 PM- Colby Morris, "Crime and Punishment: Georgia Media Portrayal of Crime Over Two Centuries"

1:15 PM- Kelsey Durick, TBA

1:30 PM- Katherine Clowse, "U.S. Disability Welfare and Its Effects on Poverty"

1:45 PM- Abby Close, "Literacy, Education, and the U.S. Prison System"

2:00 PM- Breanna Roper, "The City of Atlanta's Response to COVID-19 with the Homeless"
  2:15 - 2:45 PM – Break

2:45 PM- Dominique Washington, "Social Media and How it Affects Students in Higher Education"

3:00 PM- Liz Welsko, "Women's Domestic Violence Centers and Poverty"

3:15 PM- Antonneous Clayton, "Stress Factors Faced by Student Athletes"

3:30 PM- Antwan Owens, "COVID-19 and Education"

3:45 PM- Donald Parham, "The Grieving Process During the Pandemic"