Students majoring in History, Technology, and Society (HTS) have a wide variety of choices in curricular and extracurricular activities.
Why Get a Degree in History, Technology, and Society?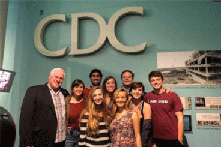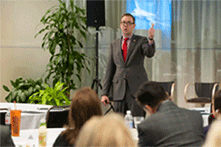 Enjoy a traditional liberal arts experience with a remarkable (4:1) student-faculty ratio, while taking advantage of everything a major university has to offer, including one of the best libraries in the Southeast.

Learn from renowned professors who conduct path-breaking research, yet who also care deeply about student learning and will mentor you in research, writing, and public speaking.

Combine the broad humanist perspectives of history with the analytical methods of sociology, without having to navigate two majors and two departments.

Join a diverse community of brilliant young students, half of whom come from outside Georgia, living on a lovely campus in the heart of a vibrant global city.

Take unique courses, available only at Georgia Tech, that situate science and technology in social, political, and economic context.

Pursue an alternative pathway into technology-focused careers, including science education, technical communications, and environmental policy.

Set yourself apart from other liberal arts graduates by obtaining a Bachelor of Science degree from one of the world's great technologically-focused universities.

Become a fearless boundary-crosser, ready to work collaboratively with people from many disciplines and backgrounds in today's team-based work settings.

Cultivate global understanding through coursework available in Atlanta and via study abroad programs, including many led by HSOC faculty.

Connect with local communities through specialized training and service learning projects, all under supervision of HSOC faculty.

Get the inside track to postgraduate study and professional school, with a blend of knowledge and skills that will open doors in a variety of fields.

Avoid student loan debt by taking advantage of our low tuition rates and generous scholarships, which leave you free to pursue careers and professional opportunities on your own terms, without financial constraints.
Curriculum
The following links provide more information about the undergraduate degree in History, Technology, and Society.  You can also visit the Current Students Page for additional information.