History, Technology, and Society majors are encouraged to pursue internships while at Georgia Tech.
Internships give students a chance to put their skills to work now and to prepare for careers after graduation.  Internships that are unpaid can be completed for academic credit, while internships that are paid can be completed for audit credit.
Recent interns have worked in many organizations, including:
the Criminal Investigations Division of the Office of the Solicitor General of Fulton County
the Mayor's Office
Planned Parenthood
Atlanta History Center
Carter Center
Georgia Tech Archives
Robert C. Williams Paper Museum
Mark Taylor Gubernatorial Campaign
Governor Sonny Purdue's office
Fernbank Natural History Museum
the offices of U.S. representatives John Lewis and Cynthia McKinney
The Georgia Tech Career Center can assist with finding paid internships and registering paid internships for audit credit. 
Looking for an Internship? Try the Internship Database
Are you searching for an internship?  Use the School of History and Sociology Internship Database as a starting point.
Internship Resources
Earning Credit
For unpaid internships, we offer pass/fail credit hours through HTS 2695 (freshmen/sophomores) and HTS 4695 (juniors/seniors). These classes can be used for HTS electives or free electives. Internships must be approved for credit by the internship coordinator.
For paid internships, we offer audit credit hours through HTS 2694 (freshmen/sophomores) and HTS 4694 (juniors/seniors). Audit credits do not count towards graduation requirements, but they do serve as "place holder" hours during the semester in which the student is completing the internship and are included on the transcript.
Internal Resources
Hear from History and Sociology Interns
Ann Louisa Brewton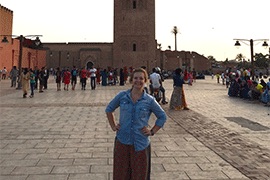 I interned at the Millennium Gate Museum when it hosted "The Art of Diplomacy: Winston Churchill and the Pursuit of Painting."  I worked for Churchill's great grandson and co-created the audio guide app for the exhibit. President Carter came to visit, and I had the opportunity to meet him. My interview with civil rights leader C.T. Vivian was published by the National Monuments Foundation.  Churchill's paintings were inspired by his travels, so I made my study abroad goal to visit some of his favorite places. The highlight was the Koutoubia Mosque in Marrakech, the subject of one of his most famous paintings.
Patrick Marcacci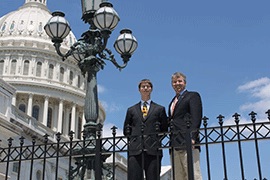 I interned for Congressman Rob Woodall (GA, 7th District) in his Washington, DC office. I was privileged to see hotly debated legislation brought to Congress and assisted in research on each using the Congressional Research Service, Committee hearings, and seminars. In addition, I assisted in constituent services, such as office hospitality, Capitol tours, and federal assistance processing. One of my favorite parts of the internship was the high status seat I was given to President Obama's 2013 Inauguration.  This internship opened my eyes to the many roles of government and opened doors into political activism in which I still take part.
Sarah Scott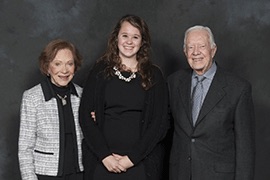 I interned with the Carter Center's Mental Health Program during the Spring of 2016. The Center's Mental Health Program works to promote access to mental health care and decrease stigma faced by those with behavioral health issues. My duties included following mental health in the news, writing letters and memos, and helping with program evaluation. The highlights of my experience include meeting President and Mrs. Carter and traveling to the Carter's hometown of Plains, Georgia.