Alums from the History, Technology, and Society B.S. program and the History and Sociology of Technology and Science M.S. and Ph.D. programs transition to a wide variety of interesting careers.
Fourth-year medical student at Mercer University School of Medicine
Writer and History Professor at Georgia Gwinnett College
Transit Technologist at the Community Transportation Association of America
Historian and Archivist at Boeing
 Director of Georgia Tech's Office of Minority Educational Development
Geospatial Epidemiologist at the Centers for Disease Control and Prevention (CDC)
Historian at the U.S. Army Corps of Engineers
Science Policy Analyst at the National Science Foundation (NSF)
Ashok Maharaj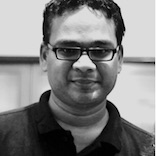 Ashok Maharaj received his Ph.D. in the History and Sociology of Technology and Science in 2011. He moved to India soon after graduation to take a research position with Tata Consultancy Services – India's top IT firm. He is currently acting as a lead and mentor in the Social Media and Workplace Re-imagination Practice. Over the last few years he has conceptualized and developed award winning gamified learning systems to help thousands of associates in the organization. Two critical patents in the learning and assessment space were filed in the US. His current research is in the field of "Positive Computing" – the design and development of technological systems to support well-being and human potential.  After moving to India, Ashok and Dolly, his wife, adopted a village and started a NGO called Skills Studio to cater to the educational needs of underprivileged kids.
Ellie Smith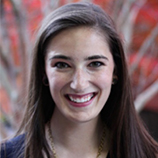 Ellie Smith graduated with a B.S. in History, Technology, and Society in 2015.  After graduation, she began work at Accenture, the global consulting firm with over 320,000 employees world-wide. Ellie reports that consulting has been an awesome experience and working with diverse clients who have diverse problems makes every day interesting. One of the things that has helped her transition from school to work has been my time in the School of History and Sociology. Her experiences at Georgia Tech laid a strong foundation of skills that have translated to consulting exceptionally well.
Danny Orrock - From HTS to a Career in Law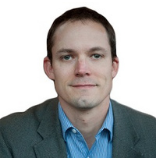 The time I spent as an HTS major helped me develop a strong communication and critical analysis skillset that I have drawn on throughout my career. After graduating from Georgia Tech in 2001, I worked in public policy on the state level, evaluating proposed legislation. Responses were crucial and often required on a short timeframe. Historical perspective never hurts when trying to persuade policymakers. In 2006, I enrolled in law school at Georgia State. Since passing the bar I have worked in several settings with a focus on software transaction and in 2014 I took a position in the legal department of Fieldglass, a subsidiary of SAP.
One of the most valuable benefits of HTS is the opportunity to learn about technology through a variety of different settings. Communication, analysis, and an ability to grasp technical ideas are powerful assets to anyone building their career in the 21st century, and the History, Technology, and Society degree delivers this.
Joel Hewitt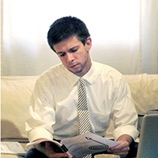 Joel Hewitt received his M.S. in the History and Sociology of Technology and Science in 2011.  After working at energy consulting firm Wood Mackenzie in Houston, Texas, he became a consultant for the Bureau of Ocean Energy Management (BOEM), which is part of the U.S. Department of the Interior.  At BOEM he worked on reports covering the history and policies of deepwater drilling in the Gulf of Mexico from roughly 1975 to 2010. In 2017, he started working at the Homeland Defense and Security Information Analysis Center (HDIAC), an entity of the Department of Defense, where he is a Subject Matter Expert focusing on energy and critical infrastructure issues as it relates to the military and homeland security.  Joel credits the school's excellent reputation for bringing him his "big break" halfway through the graduate program.  In his current job, he is writing what is essentially a history of technology, which is precisely what he went into the Ivan Allen College to study.
Denise Bringslid - Bringing Her HTS Education into the Classroom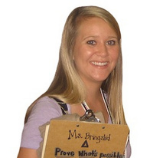 I currently teach 5th grade math at Mary Lin Elementary School (Atlanta Public Schools). Through my experiences in the HTS program at Georgia Tech, I learned to view the world with a critical lens. As I began to see the vast inequities in our country and around the world, I made the decision to pursue an independent project in order to add to the growing body of research within the field of sociology. I won the President's Undergraduate Research Award and had the opportunity to pursue an Honors Thesis under the direction of Dr. Ronald Bayor. As I was very interested in Dr. Bayor's work surrounding race and the shaping of Atlanta, I decided to analyze the sociohistorical effects of race and place on K-12 education by studying the creation and prevalence of achievement gaps within our city. During my research, I became very passionate about education equality and decided to work within the field – this is when I discovered Teach for America (TFA).
After graduating with my HTS degree in 2011, I began my career in education as a TFA Corps Member in the Mississippi Delta. There, I taught 8th grade math, algebra, and 6th grade math. My unique experience at Tech gave me valuable skills related to instructional technology in the K-12 classroom, and I am also able to leverage traits that students who pursue liberal arts degrees at other universities just don't get the opportunity to experience. No matter what K-12 environment I'm in (I've taught at three different schools), I'm always known as the "technology person" – which is a pretty awesome role, as people often look to me for assistance in implementing technology in their classroom.
After I moved home to Atlanta in 2013, I was interested in getting back into sociological research and I began working toward an M.S. in Social Foundations of Education at Georgia State University. My time as an HTS student at Georgia Tech not only helped me find a meaningful career path in education – the rigorous, collaborative, academic work I did as an undergrad more than adequately prepared me for success in my graduate level studies.
Angelina Callahan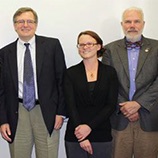 Angelina Callahan graduated with an M.S. and is an Associate Historian at the Naval Research Laboratory (NRL).  HSOC faculty helped Angel tailor her research to topics of historic and policy relevance.  At the NRL she communicates with lab administration and researchers about how R&D practice evolves over time. Corroborating their perspectives with archival records, she works to shed light on how federal labs are critical nodes of organizational activity, intended to marshal talent for more effective governance, national defense, and multilateral security. HSOC prepared her for a career of adaptation, making it less daunting to tackle the history of a lab pursuing many scientific disciplines. The history office archives documents, conducts interviews, and writes histories in many forms, work facilitated by Angel's professors' examples of writing clearly and interrogating material efficiently.
Prakash Kumar - Understanding the "Green Revolution" and GMOs in India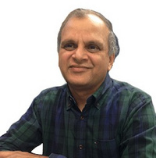 The School of History and Sociology made me appreciate the importance of an empirical work. The program also indulged me to complete a work on a non-U.S. subject while pursuing important national questions. Cambridge University Press published my first book on the colonial and global history of indigo plantations in Bengal (Indigo Plantations and Science in Colonial India). I am currently an Associate Professor of History and Asian Studies at Pennsylvania State University, working on two book projects. One book is a history of hunger in India that argues against the grain of the accepted narrative that the "green revolution" agriculture, with its focus on aggregate yield increase, mitigated the problem of hunger in postcolonial India. My second book project is a history of social movements against GM crops in India, which locates communitarian knowledge in the Gandhian logic of the Indian activists, and is due for publication by Indiana University Press in 2017.