By Di Minardi
School of History and Sociology alumnus Albert George has led an impactful career in environmentalism. He founded the Amazon Reforestation Project, worked as the director of conservation at the South Carolina Aquarium, and is now the carbon neutral program manager at Apple, where he develops strategies to reduce the company's global supply chain emissions to net zero by 2030.
George said his goal in his work has always been to dispense with the talk and make real change. To do so, he earned marine biology and chemistry degrees and completed programs at Harvard and Yale. But it's his Master of Science in History and Sociology of Technology and Science (HSTS) from Ivan Allen College that most profoundly shaped the trajectory of his career. Why did this scientist decide to venture into the liberal arts?
"Because I think one thing that has not been done enough is thinking deeply about equity issues and access issues in the face of this rapidly evolving technological landscape," George said. "When you couple that with issues around climate change, where those people who've done the least are going to be impacted the most, the question becomes very clear to me. Who's focusing on those issues? Who cares about those issues? When I decided that I was going to further my education, I wanted to learn and understand this confluence of factors."
"I know Georgia Tech has made a shift towards integrating more of the liberal arts into the engineering and scientific curriculums. I would say that's not just a nice thing to do. Given the state of the world, it's a necessity."
— Albert George, HSTS 2009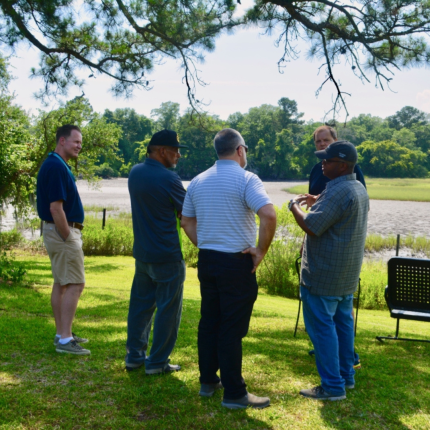 Advocating for Home
George graduated with his HSTS degree in 2009. In the intervening years, his proudest achievement has been advocating "for what I call home," he says—specifically, Savannah, Georgia, and nearby Charleston, South Carolina.
Recently, his citizen-science project to protect the marshes and wetlands in the historically Black community of Maryville, South Carolina, was awarded a $2.6 million grant from the National Fish and Wildlife Foundation.
"There's a limited window to deploy capital and proactively do things to mitigate risks," George said, likening climate change to a freight train passing us by.
"Too many people are in their silos, focusing on a narrow window to generate their report or research. And there are not enough people who think, 'man, how do you apply all of this information in the real world?' Because the reality is the impacts of climate change are not coming. They're already here."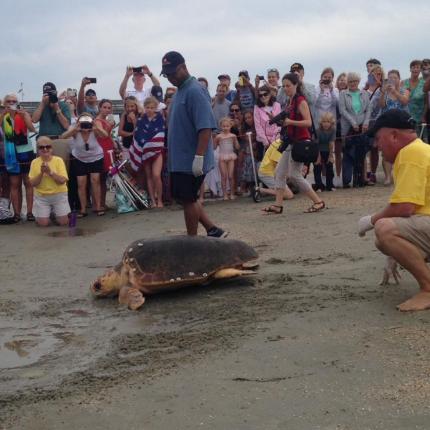 Frugal Innovation
For his next project, George is focusing on "frugal innovation" and building a resilient, affordable structure that can withstand a category four or five hurricane.
He is partnering with the Sandalwood Community Food Pantry in the historic Mitchelville Gullah Geechee community on Hilton Head Island, South Carolina, to execute the resilient structure demonstration project. He hopes they can one day replace mobile homes — cheap housing that is common along Georgia and South Carolina coasts that can become death traps during intense wind storms.
"We shouldn't just be focusing on big-ticket innovation for the big players in tech," George said. "Because unfortunately, there are more people in the bucket of 'not having' versus 'having' right now in the world, so if you solve problems for the people who are economically challenged, that's where you can have the greatest impact."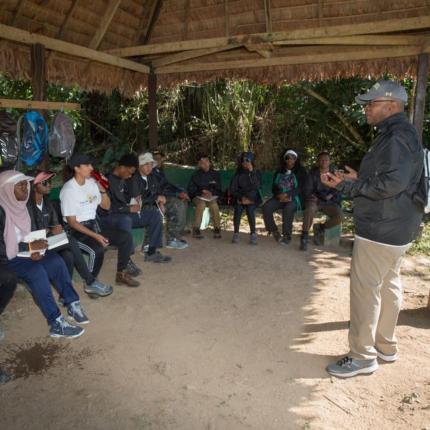 Making an Impact
So, what's George's advice to Georgia Tech students and scientists who want to create positive change in their careers?
"When you think about where we are as a society, gone are the days where you could work in your lab and be blind to the state the world is in," George said.
"One of the big shortcomings of science is our inability to communicate well with people who live in the real world and are dealing with the real implications of what we're studying. This can affect the support for the endeavor, how policies are formulated around it, and how people engage with what the data is saying, all of which is important when people's lives are at stake."
The bottom line? To mitigate issues such as climate change, George says, "you have to be able to communicate in a way that policymakers and community members don't need a Ph.D. or a master's degree to understand what the heck you're saying."